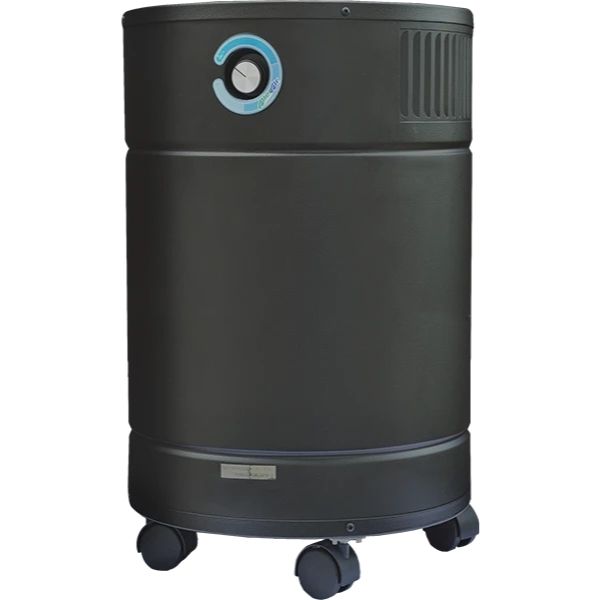 AllerAir AirMedic Pro 6 Ultra S — Smoke Eater Air Purifier
Purifies up to 1,800 sq. ft. based on 8 ft. ceilings
Ideal for:
Areas and rooms where smoke and odor are a serious concern for you
Wildfire zones where smoke can linger
Lounges or common areas that permit smoking
Warranty: 5-year warranty on labor as well as a 10-year warranty on parts (motor, cord, switch, wheels, etc)
Ships in 3-5 business days
5" Carbon Filter for Smoke and Odor Control in Larger Rooms and Spaces
Did you know that tars from smoke can continue to release vapors and odors on surfaces long after the smoking has stopped? Do you want to make sure these are eliminated? The AirMedic Pro 6 Ultra S can help you get rid of that unwanted secondhand smoke and provide you with clean air.
An industry-leading 5" activated carbon filter traps the complex pollutants. It then absorbs all the chemicals, gases, and odors along with removing the airborne particles. The tar-trapping filter also helps remove any tar particles that would linger. Working together, they can eliminate smoke from your home or office.
Let the "Smoke Eater" go to work and you won't have to worry about what is in the air you breathe. Walk into each room knowing that you will not be breathing in secondhand smoke.
Get the smoke and odors out of your life. Purchase your Pro 6 Ultra S Smoke Eater today!
AirMedic Pro 6 Ultra S Multi-Stage Filtration System
Tar-trapping Pre-filter — This is the first line of defense and helps removes any sticky tar particles and protects the two main filters from clogging. This helps prolong the life of your super HEPA and carbon filters in the unit. Replace the pre-filters every two to three months, depending on usage.
Super HEPA Filter — Capture the fine dust, allergens, pollen, smoke and other particles that linger around your home or office. It can help remove at least 99.99% of airborne particles measuring 0.1 microns or larger. Composed of a dense web of fibers, HEPA filters are considered the safest and most efficient method to treat and eliminate airborne particles.
Activated Carbon Filter — AllerAir is industry leaders in activated carbon. The Pro 6 Ultra S carbon filter neutralizes, adsorbs and removes airborne chemicals, gases and odors from the air. AllerAir uses many pounds of deep bed activated carbon to effectively adsorb dangerous airborne substances and give you clean air. The 5" deep carbon filter is an industry leader and can easily control the smoke and odors in any home or building.
UV Light Upgrade Option — Add a UV (ultra violet) germicidal lamp for another layer of protection. The UV light works by breaking down microorganisms and disrupting their DNA, making them unable to reproduce and in effect, "kills" or neutralizes them. This is excellent for controlling airborne mold mycotoxins, bacteria and viruses.
Eco-friendly Features in the Pro 6 Ultra S Air Purifier
All-metal housing: With the all-metal housing unit, no plastic vapors will be emitted and the unit is powder-coated, not wet painted, making it odorless.
Ozone-free filtration technology: There can be traceable amounts of ozone emitted from most air purifiers but AllerAir's air purifiers give you ozone-free filtration technology with it's carbon and HEPA filters. None of the units emit ozone.
Energy efficient: The electric motor is energy efficient and should only cost you pennies a day. We think that is worth the clean air you will be breathing in for years to come!
Refillable carbon canisters: AllerAir's carbon filter canisters can be refilled and use 100% virgin activated carbon which is recyclable.
Styrofoam free: With the unit being styrofoam free, there are no toxins and chemicals released making it better for you and our Earth.
North American sourced parts, materials and assembly: AllerAir's parts, materials, and assembly are done in North America. The electric motor is made in America.
AirMedic Pro 6 Ultra S Technical Specs
Filtration System: The 5" deep activated carbon filter teams up with the Super HEPA filter and Tar-trapping pre-filter to make sure you are getting clean air to breathe and killing off all smoke and odors. Add the UV lamp to get another level of protection.
Carbon Canister: 38-40 lbs. canister with activated carbon inside it can be removed to refill new carbon inside.
Super HEPA: Removes 99.99% of all airborne particles 0.1 microns in size so you can be sure you are breathing in clean air.
CFM (cubic feet per minute): 560 free flow — The unit can move around 560 cubic feet of air per minute when on the highest speed setting.
Speed: 3-speeds to choose from on this unit. For the more tough jobs, turn it on to high and watch the chemicals and toxins leave your air.
UV Lamp: Upgrade with the UV lamp that adds another layer of protection for you by getting rid of bacteria and viruses that linger around you.
Available Colors: Black, Sandstone, White —Choose your favorite color or what would best fit the surrounding decor.
Voltage: 115/60Hz or 230/50Hz
Amps (115V/230V): 1.3/0.5
Cord Length: 8 feet
Noise Level: 45-62 dB — These levels would be like average home noise, a normal conversation or background music so the unit will not be overbearing when it is running.
Maneuverability: 4 x 2" wheels
Filter Access: Pre-filter at bottom with no tools necessary to change. Main filters will have to be unscrewed from bottom and then changed. See user manual on how to easily do this.
Motor Details: Motor with a blower wheel
Dimensions: 23.5" (height) x 15" (diameter)
Shipping Weight: Approx. 69 lbs. (Ships in 2 Boxes)
Operating Weight: 58 lbs.
CSA/UL: Yes
Downloads