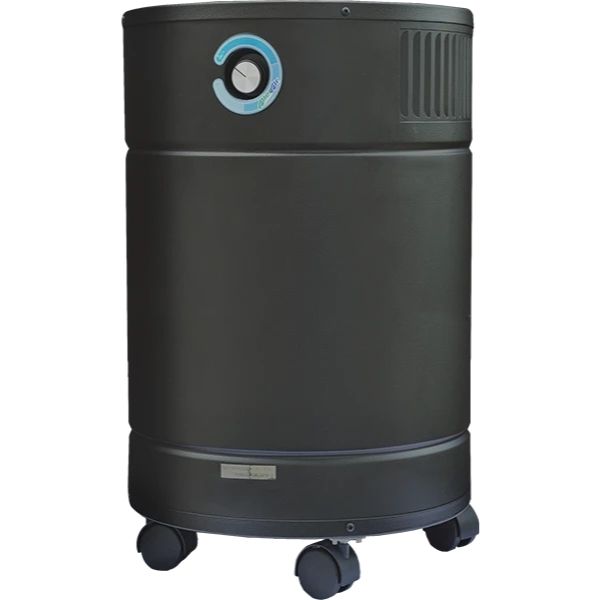 AllerAir AirMedic Pro 6 Plus Air Purifier
Purifies up to 1,800 sq. ft. based on 8 ft. ceilings
Ideal for:
Fumes, chemicals, odors, VOCs, or airborne particles in the home or office
Removing a wide range of common household pollutants that linger
Larger rooms and spaces in the home or office that need clean air
EXEC or VOCarb Carbon? Choose EXEC for standard air cleaning and VOCarb for higher pollution levels, VOCs, chemicals (formaldehyde, etc.), fumes, and odors.
Warranty: 5-year warranty on labor as well as a 10-year warranty on parts (motor, cord, switch, wheels, etc)
Ships in 3-5 business days
AirMedic Pro 6 Plus Removes Heavy Concentrations of Chemicals and Odors
Get rid of the chemical and odors around your home or office with the Pro 6 Plus air purifier. This unit is an upgrade of the Pro 6 with a larger carbon filter and super HEPA filter. If you are searching for a workhorse air purifier, look no further as you have found the perfect one!
AllerAir is the industry leader when it comes to carbon filters. The 3" deep activated carbon filter provides more dwell time and allows complex pollutants to get trapped. That teams up with the super HEPA filter that captures 99.99% of all airborne particles 0.1 microns in size. The Pro 6 Plus is then ready to give you fresh, clean air.
The unit also has eco-friendly features that make it an even better value. All-metal housing prevents any off-gassing. The only plastic on the unit is the wheels but that allows for easy mobility.
Help yourself and Earth out by purchasing your AirMedic Pro 6 Plus today.
Carbon and HEPA Filtration System in Pro 6 Plus
Pre-filter — Removing larger particles is what the pre-filter does best. By doing this, it prolongs the life of your super HEPA and carbon filters. The pre-filters should be replaced every two to three months, depending on usage.
Super HEPA Filter — The super HEPA filter captures the fine dust, allergens, pollen, smoke and other particles floating around your home or office. It can help remove at least 99.99% of airborne particles measuring 0.1 microns or larger. The super HEPA filter will work perfectly with the carbon filter as it is considered the safest and most efficient method for eliminating particles.
Activated Carbon Filter — Activated carbon is the key component of all AllerAir's air purifiers. Using many pounds of deep bed activated carbon, it neutralizes, adsorbs and removes airborne chemicals, gases and odors and gives you clean air. The AirMedic Pro 6 Plus features a 3" deep carbon filter that is among the largest activated carbon filters available in a home unit along with a tall unit body for more carbon.
UV Light Upgrade Option — AllerAir gives you the option to customize the air purifier by adding a UV (ultra violet) germicidal lamp. UV light works by breaking down microorganisms and disrupting their DNA, making them unable to reproduce and in effect, "kills" or neutralizes them. This is excellent for controlling airborne mold mycotoxins, bacteria and viruses that could linger inside your home or office.
Features that are Eco-friendly in the AirMedic Pro 6 Plus
All-metal housing: The all-metal housing unit ensures no plastic vapors are emitted and can also be recycled. You will be helping yourself and Earth out!
Ozone-free filtration technology: Most air purifiers can produce a traceable amount of ozone and it ends up not being healthy for our lungs. This is not the case with AllerAir's air purifiers and feel good knowing they don't produce any ozone in the filtration.
Energy efficient: The electric motor is energy efficient and will be a low operating cost. It should cost only pennies a day for fresh air to breathe in.
Refillable carbon canisters: All the canisters can be refilled with new carbon. No need to buy a new canister every time!
Styrofoam free: No toxins can be released from the unit due to having no styrofoam inside.
North American sourced parts, materials and assembly: The parts and materials are sourced in North American along with it being assembled there so feel good about knowing where all the unit's parts came from.
AirMedic Pro 6 Plus Air Purifier Technical Specs
Filtration System: A 3" deep activated carbon filter, Super HEPA, and pre-filter combine to make a great team to give you clean air.
Carbon Canister: 22-23 lb canister that you can easily take out of the unit and refill with new carbon to capture all the chemicals that are in your air.
Super HEPA: Removes 99.99% of all airborne particles 0.1 microns in size that is considered the best at getting rid of small particles.
CFM (cubic feet per minute): At 560 CFM, the unit can move around 560 cubic feet of air per minute.
Speed: Variable speeds gives you the option to turn it on a lower or higher setting depending on how affected the area is.
UV Lamp: Option to add the UV lamp to the filtration system to help kill off viruses and bacteria.
Available Colors: Black, Sandstone, White color choices to fit the decor of your home or office.
Voltage: 115/60Hz or 230/50Hz
Amps (115V/230V): 1.3/0.5
Cord Length: 8 feet
Noise Level: 45-62 dB — Equivalent to average home noise, a normal conversation or background music so the unit will not be overbearing in your home or office space.
Maneuverability: 4 x 2" wheels
Filter Access: Pre-filter needs no tools to change but the carbon and HEPA filters will need the bottom of the unit unscrewed to change.
Motor Details: Motor with a blower wheel
Dimensions: 23.5" (height) x 15" (diameter)
Shipping Weight: Approx. 57 lbs.
Operating Weight: 48 lbs.
CSA/UL: Yes
Downloads