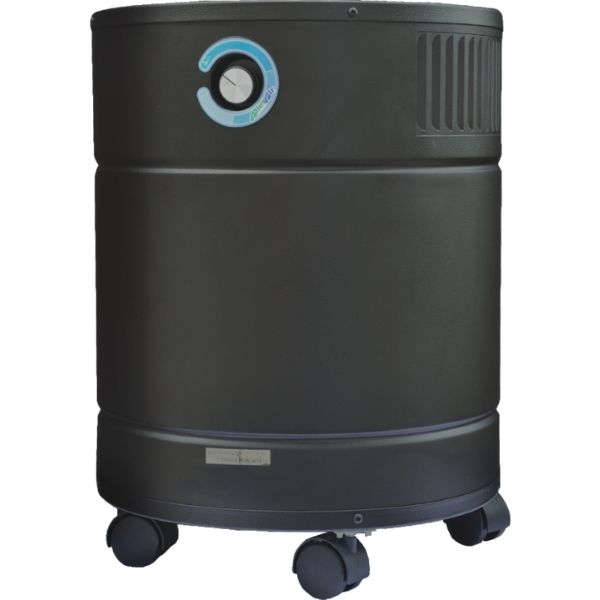 AllerAir AirMedic Pro 5 MCS Air Purifier
Purifies up to 1,500 sq. ft. based on 8 ft. ceilings
Ideal for: 
People who suffer from Multiple Chemical Sensitivity (MCS) and Chemical Injuries
Warranty: 5-year warranty on labor and 10-year warranty on parts (motor, cord, switch, wheels, etc).
Ships in 3-5 business days
Air Purifier for Multiple Chemical Sensitivities (MCS) & Chemical Injury
Suffering from Multiple Chemical Sensitivities (MCS) is not comfortable and AllerAir has made the AirMedic Pro 5 MCS just for you! While similar to the Pro 5 HD MCS, the Pro 5 MCS has a smaller carbon bed and a Medical-Grade HEPA filter. AllerAir's commitment to MCS and Chemical Injury trigger relief is the top in the industry and this unit shows that.
The 2" activated carbon filter provides the dwell time that allows complex pollutants to get trapped more in a more efficient manner. It can adsorb all the chemicals, gases, and odors along with removing the airborne particles inside your home or office. The HEPA filter can remove 99.97% of all airborne particles 0.3 microns in size to make them the perfect combination giving you clean air.
The MCS sensitive parts includes organic cotton pre-filters, a burnt-in motors and powder-coated activated carbon filter canister. These help so MCS sufferers can get the clean air they need and don't make the air worse for them.
Don't let your MCS issues take over. Know that AllerAir can help you with clean, fresh air. Purchase your Pro 5 MCS today and breathe in the difference!
AirMedic Pro 5 HD MCS Multi-Stage Filtration System
Pre-filter — The pre-filters are unbleached, organic cotton in the MCS unit so you will not get any reactions from it. Being the first line of defense, the pre-filter removes the larger particles that linger in your air. It also helps prolong the life of your super HEPA and carbon filters. Replace the pre-filters every two to three months, depending on usage.
Medical-Grade HEPA Filter — The HEPA filter helps capture the fine dust, allergens, pollen, smoke and other particles that linger around your home or office. It has no glue or binders and has a metal cap with no rubber gaskets for the MCS sufferers. It can help remove at least 99.97% of airborne particles measuring 0.3 microns or larger. It has no odors, polymer or plastic and is considered the safest and most efficient method for eliminating particles.
Activated Carbon Filter — At the heart of all AllerAir's air purifiers is the activated carbon. The Pro MCS activated carbon filter canister is powder-coated for the MCS. It can help neutralize, adsorb and remove airborne chemicals, gases and odors from the air. This unit has a 2" deep carbon filter that is among the largest activated carbon filters available in a home unit.
AirMedic Pro 5 MCS Eco-friendly Features
All-metal housing: No plastic vapors will emit from the unit with the all-metal housing while it is running. It can also be recycled too since it is metal.
Ozone-free filtration technology: Most air purifiers will emit traceable amounts of ozone but AllerAir does not use any dangerous ozone technology.
Energy efficient: The unit should only cost you pennies a day while it runs to give you clean air.
Refillable carbon canisters: You will have the ability to reuse the canister by ordering more carbon to replace the older stuff.
Styrofoam free: With the unit being styrofoam free, toxins and chemicals cannot be released making it better for you and our Earth.
North American sourced parts, materials and assembly: AllerAir's parts, materials, and assembly are done in North America. The electric motor is made in America.
AllerAir AirMedic Pro 5 MCS Tech Specs
Filtration System: The activated carbon filter measuring at a 2" depth along with the Medical-Grade HEPA and quick-change pre-filter will clean your air of any chemicals, gases, and odors.
Carbon Canister: The canister, weighing in at 16 lbs., can easily be taken out and the carbon can be refilled quickly.
Medical-Grade HEPA Filter: The HEPA filter will remove 99.97% of all airborne particles 0.3 microns in size to go along with the carbon filter.
CFM (cubic feet per minute): 400 free flow. This means the unit can move around 400 cubic feet of air per minute.
Speed: Find your perfect speed with the adjustable dial. Low, high or in between, the Pro 5 MCS will clear your air.
Available Colors: Black, Sandstone, or White — Pick the best color to match the decor in your home or office space.
Voltage: 115/60Hz or 230/50Hz
Amps (115V/230V): 1.3/0.5
Cord Length: 8 feet
Noise Level: 45-62 dB — Equivalent to average home noise, a normal conversation or background music so the unit will not be overbearing when it is running.
Maneuverability: 4 x 2" wheels
Filter Access: Pre-filter is at the bottom of the unit with no tools necessary to change. Main filters (HEPA and Carbon) are changed at bottom with screws and it is rather quick to do.
Motor Details: Motor with a blower wheel that is made in America.
Dimensions: 20.5" (height) x 15" (diameter)
Shipping Weight: 50 lbs. (comes in 2 boxes)
Operating Weight: 44 lbs.
CSA/UL: Yes
Downloads