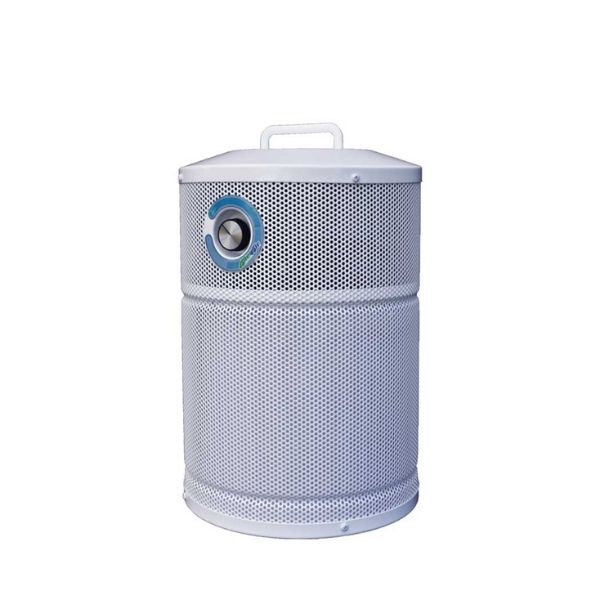 AllerAir AirMed 3 Compact Air Purifier
Save

Liquid error (snippets/product-badge line 32): Computation results in '-Infinity'

%
Purifies up to 375 sq. ft. based on 8 ft. ceilings
Ideal for:
Someone who requires serious air cleaning in a compact format with an emphasis on chemicals and odors
Travel, RV, cottage, or cabin life
Portability with a handle to easily move around
Small rooms and spaces where clean air is needed
EXEC or VOCarb Carbon? Choose EXEC for standard air cleaning and VOCarb for higher pollution levels, VOCs, chemicals (formaldehyde, etc.), fumes, and odors.

Warranty: One year on parts and labor not including expendable parts such as pre-filters and filters.
Ships in 3-5 business days
Portable Air Purifier with Super HEPA and Activated Carbon Filters
Do you want clean air in your small office or in a certain room in your home? Do you travel and need clean air in the RV or cabin? AllerAir has made the AirMed 3 Compact for you! Portable but still powerful, it is one of the smallest unit available in their line of air purifiers. The super HEPA filter and activated carbon filter will be sure to get rid of anything harmful in your air.
Weighing in at 17 lbs., you can easily pack this in the RV to take along or move it from room to room in your home or office. It will be efficient but yet quiet and most won't know you have it running. It has a large activated carbon filter with granular carbon for better filtration of chemical and odors and a super HEPA filter that will remove 99.99% of all airborne particles 0.1 microns in size.
The AirMed 3 Compact has a very low energy consumption and eco-friendly features like all-metal housing and refillable carbon canisters. This not only helps you with the clean air you will breathe in but also help our Earth.
Stop worrying about your indoor air quality by getting your AirMed 3 Compact today! Know that you will be breathing in only the best clean, crisp air.
AllerAir's Multi-Stage Filtration System
Pre-filter — By removing the larger particles, the life of your HEPA and carbon filters are prolonged. The pre-filter is just the start of the filtration process but an important one. The pre-filter should be replaced every two to three months, depending on usage.
Super HEPA Filter — The super HEPA filter can help capture the fine dust, allergens, pollen, smoke and other particles that linger in your air. It removes at least 99.99% of airborne particles measuring 0.1 microns or larger. Considered the safest and most efficient method for eliminating particles, the super HEPA will last around 2 years before a replacement will be needed.
Activated Carbon Filter — At the heart of all AllerAir's air purifiers is the activated carbon. This stage should neutralize, adsorb and remove airborne chemicals, gases and odors. It uses many pounds of deep bed activated carbon to effectively adsorb dangerous airborne substances. The more carbon an air purifier has, the more chemicals it will be able to adsorb and this will help give you the fresh air you want. This should be replaced every 2-5 years depending on usage.
AllerAir AirMed 3 Compact Eco-friendly Features
All-metal housing: All-metal housing allows for it to be recycled and will not emit any off-gassing. Feel good about the product you buy and the clean air it will give you.
Ozone-free filtration technology: With a lot of air purifiers producing a traceable amount of ozone, AllerAir's AirMed 3 Compact gives you ozone-free filtration technology with it's carbon and super HEPA filters.
Energy efficient: At 0.3 amps, the AirMed 3 uses very little energy but will get your room clear of any chemicals, odors, dust, and allergens.
Refillable carbon canisters: AllerAir's carbon filter canisters can be refilled so you can order new carbon when it needs to be changed after the 2-5 years of usage.
Styrofoam free: No toxins can be released into the air without styrofoam inside the unit adding to the eco-friendly features.
North American sourced parts, materials and assembly: Know that the AirMed 3 is made with sourced parts and materials from North America while also being assembled there.
AllerAir AirMed 3 Compact Technical Specs
Filtration System: Activated carbon filter @ 3" depth along with a Super HEPA filter and pre-filter to make sure you get the best air to breathe in.
Carbon Canister: 12 lbs. — The large carbon canister is ideal for heavy duty filtration that is larger than the AirMed 1.
Super HEPA: Removes 99.99% of all airborne particles 0.1 microns in size
CFM (cubic feet per minute): 100 CFM. Rule of thumb is that you need at least 1 CFM per square foot of room area.
Speed: Variable — With the ability to adjust the speed from low to max settings, you will be in full control of the speed.
Available Colors: White
Voltage: 115/60Hz only
Amps (115V/230V): 0.3 — Keep your air purifier going and don't worry about the costs of the electricity it will use.
Cord Length: At 6 feet, you will be able to move it around your room, office or RV.
Noise Level: 40-60 dB — This is close to average house noise, a normal conversation or background music so it is not so loud to be unbearable.
Maneuverability: Lightweight and portable with handle to easily move around to your desired location.
Filter Access: Bottom screws make it easy to replace the filters.
Motor Details: Motorized Impeller
Dimensions: 16" (height) x 11" (diameter)
Shipping Weight: Approx. 23 lbs.
Operating Weight: 20 lbs.
CSA/UL: Yes
Downloads