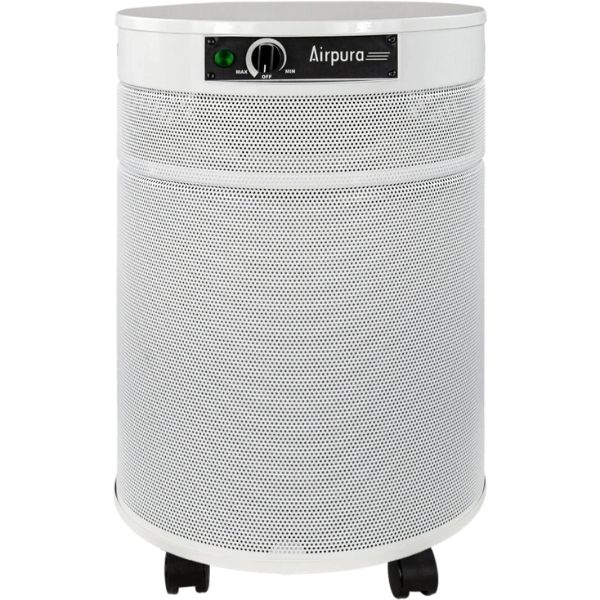 Airpura V600 Air Purifier VOCs & Airborne Chemicals
Save

Liquid error (snippets/product-badge line 32): Computation results in '-Infinity'

%
Purifies up to 2,000 sq. ft. with 360° air distribution.
Removes: Pet dander/odors thousands of harmful chemicals released from common household products such as PVC, vinyl, carpets, paint, heating fuels, ammonia, etc. as well as pesticides. 
Ideal for:
Workplaces/Industries that release chemicals from their manufacturing processes
Families who want clean and healthy air at home
Places with poor outdoor air quality
Locations in proximity to agricultural industries
Wildfire smoke
Warranty: The Airpura Limited Warranty — 5 years on parts and 10 years on labor.
V600 Air Purifier Ideal for Airborne Chemicals that Linger
Do you want to eliminate any airborne chemicals and VOCs from the air you breath? The V600 Air purifier can help rid your air of these. After, you will be breathing in the fresh, clean air you deserve.
The V600 is a complete air purifier that can help eliminate thousands of airborne chemicals and VOCs that are found in household products. Working together with a true HEPA filter, the enhanced mixed carbon adsorbs the chemicals and VOCs that linger indoors.
Protect yourself and others around you from health issues caused by all these chemicals we encounter on a daily basis. Know you are breathing in the best air you can and feel good about it. Set it up in your home or office and let it do the hard work!
Start to breathe easy with the Airpura V600 Air Purifier. The fresh air is waiting for you!
The Steps of Filtration in the Airpura V600
Allowing the air to pass through the four different filtration stages gives you the best air to breathe in. The Airpura V600 makes sure the air coming out is the purified air you need and want. The stages that make the purified air happen are:

Pre-Filtration: The pre-filter removes the larger particles. It can also help to extend the life of the HEPA and carbon filters. This filter should be changed every 12 months and can be vacuumed on the outside of the air purifier.
2 MicroSupress filters: These help suppress bacteria and viruses around the carbon bed.
Carbon Filtration: The unit uses an enhanced carbon blend that absorbs VOCs and other airborne chemicals. This filter typically lasts up to 2 years and can easily be replaced with another carbon filter from Airpura.
HEPA Filtration Options: Standard HEPA: The True HEPA filter removes up to 99.97% of airborne particles that are as small as 0.3 microns in diameter. It lasts approximately 3-5 years under regular use. (Option to upgrade to a Super HEPA Filter —V614— that removes up to 99.99% of airborne particles that are as small as 0.3 microns.)
Airpura V600 Features That Are Environmentally Friendly:
The environmental friendly features give you peace of mind and knowing you are helping leave less impact on this earth while living and breathing a better one on it. Features that the Airpura air purifier provide are: a lightweight, motorized impeller which delivers greater airflow at power consumption exactly the same, PCB-free (polychlorinated biphenyls) capacitors which are know to be toxic to humans, animals and the environment, zero off-gassing (free of any plastic, rubber, silicone, adhesives or any bonding agents, all-metal housing (93% recyclable) and pre-filters that can be vacuumed to ensure longevity of machine and improve the V600's energy efficiency.
The unique pressure seal on the filter chamber ensures that all of the dirty air passes through the filtration system set in place.
Felt gaskets seal the filter chamber allowing maximized filtration with no rubber off-gassing found with other air purifying filtration systems.
All metal housing ensures no plastic vapors are emitted.
Backward curved motorized impeller eliminates the vibrations and noise associated with older motor and shaft set ups giving you a unit that runs quietly.
The variable speed motor lets you choose your ideal level of filtration and easily adjust if you would like.
With the motor out of the air flow, you don't have to worry about clean air getting blown over the motor and picking up fresh impurities. Airpura has positioned the motor so this cannot happen like other air purifiers.
Unimpeded airflow is simple and direct internal airflow that avoids the air turbulence, inefficiency and noise associated with more convoluted systems.
Having separate electrical parts chamber prevents any off gassing from capacitors, condensers or switches.
The perforated steel exterior offers both a softer appearance and 360° air intake and distribution.
With separately changeable filters, you don't have to worry about replacing all at once. The HEPA and carbon filters let you change them when appropriate and save operating costs.
Downloads