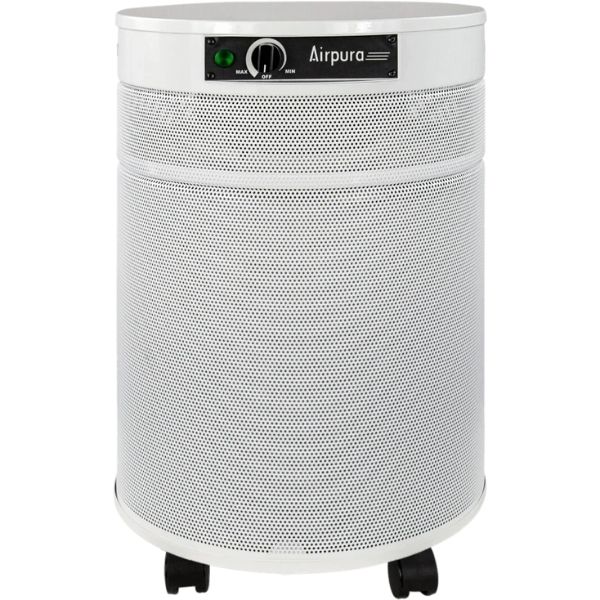 Airpura T600 Air Purifier Tobacco Smoke Remover
Save

Liquid error (snippets/product-badge line 32): Computation results in '-Infinity'

%
Purifies up to 2,000 sq. ft. with 360° air distribution.
Removes: Thousands of harmful chemicals contained in tobacco smoke including benzene, toluene, formaldehyde, and known carcinogens.
Ideal for:

Homes with smoker(s)
Restaurants and bars
Hospitality industry
Institutions that have smoking areas
Waiting rooms
Warranty: The Airpura Limited Warranty — 5 years on parts and 10 years on labor.
Purify Your Air from Cigarette and Cigar Smoke
Do you live or work in a place where cigarettes or cigars are smoked? You are more than likely breathing in the 4,000 dangerous chemicals and gases that can be found in tobacco smoke. Breathe easy with Airpura's T600 Air Purifier that removes these chemicals along with carcinogens.
Specifically designed to deal with tobacco smoke, the T600 features a special TarBarrier pre-filter along with a 26 lb. deep carbon filter to take in those dangerous chemicals, gases, and carcinogens. After that, you can breathe in the fresh air and know the secondhand smoke is gone.
Don't you want to know the air you are breathing in is free from all those chemicals and gases? Don't let your body pay the price in the future. Get rid of all that smoke from tobacco.
Buy your T600 today and feel good about the air you are breathing in.
What does the T600 Remove from Your Air?
The Airpura T600 air purifier can easily filter out and absorb tobacco smoke, chemicals, and tar particles from areas as large as 2,000 sq. ft. This air purifier can help remove the more than 4,000 chemicals and gases found in tobacco smoke including formaldehyde, benzene, toluene, and at least 60 carcinogens. It also removes the tar emitted from cigarette and cigar smoke that is very harmful to the air we all breath in. Allergens such as dust, pollen, mold spores and pet dander are also removed through the robust filtration system. Wouldn't you want all those out of the air you breathe in?
How The Filtration System Works To Remove Smoke And Odors
Passing through a pressure sealed filter chamber, the air passes the multiple steps of the filtration process that includes:
Acting like a cigarette filter, the TarBarrier pre-filter is a special filter that traps all the tobacco tars and eliminates them from the air stream. The pre-filter should be changed every 4-8 months depending on use.
2 MicroSuppress filters that help suppress bacteria, antigens, and pathogens around the carbon bed.
A 3" deep, 26 lb. Carbon filter bed that is specially designed to adsorb the 4000 harmful and carcinogenic chemicals and gases found in tobacco smoke. The carbon filter should last around 2 years depending on use.
The HEPA-Barrier post filter that helps captures 95% of airborne particles, as small as 1 micron. This filter should be changed at the same time as the carbon filter.
Airpura T600 Air Purifier Eco-friendly Features
For those who are eco-friendly, the T600 features are environmental friendly allowing you peace of mind and knowing you are helping leave less impact on this earth while living and breathing a better one on it. Some features provided are: a lightweight, motorized impeller which delivers greater airflow at power consumption exactly the same, PCB-free (polychlorinated biphenyls) capacitors which are know to be toxic to humans, animals and the environment, zero off-gassing (free of any plastic, rubber, silicone, adhesives or any bonding agents, all-metal housing (93% recyclable) and pre-filters that can be vacuumed to ensure longevity of machine and improve the T600's energy efficiency.
Airpura's unique pressure seal on the filter chamber ensures that all of the dirty air passes through the filters.
Felt gaskets seal the filter chamber. Maximize filtration with no rubber off-gassing found with other filters.
All metal housing ensures no plastic vapors are emitted.
Backward curved motorized impeller eliminates the vibrations and noise associated with older motor and shaft set ups. The 560 CFM (rated) can recycle the air in up to 2000 sq. ft. in approximately 30 minutes to keep refreshing the air and remove harmful smoke.
The variable speed motor lets you choose your ideal level of filtration and easily adjust if you would like.
Having the motor out of the air flow, there is no need to worry about clean air getting blown over the motor and picking up fresh impurities. The position of the motor is placed so this cannot happen like other air purifiers.
Unimpeded airflow is simple and direct internal airflow that avoids the air turbulence, inefficiency and noise associated with more convoluted systems.
Having separate electrical parts chamber prevents any off gassing from capacitors, condensers or switches.
The perforated steel exterior offers both a softer appearance and 360° air intake and distribution. It is also easy to vacuum the pre-filter from the outside steel exterior.
With filters you can change separately, you don't have to worry about replacing all at once. The HEPA and carbon filters let you change them when appropriate and save operating costs.
Downloads