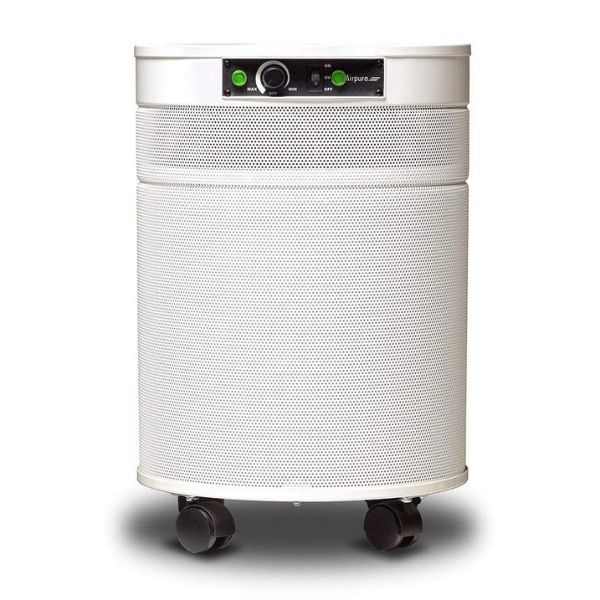 Airpura P600 Air Purifier Germs, Mold, & Chemicals Reduction
Save

Liquid error (snippets/product-badge line 32): Computation results in '-Infinity'

%
Purifies up to 2,000 sq. ft. with 360° air distribution.
Removes: 
Mold spores
Dust particles
Asbestos
Lead particles
Microorganisms
Carbon monoxide
Nitrogen oxides
Organic chemicals
Formaldehyde
Lead vapor
Pesticides
Radon
Ideal for:
Homes with Individuals with suppressed immune systems, the elderly and very young children
Individuals with Multiple Chemical Sensitivities (MCS)
Places with poor outdoor air quality
Workplace/Industrial use
Warranty: The Airpura Limited Warranty — 5 years on parts and 10 years on labor.
Revolutionary Air Purifier Using UV Light and TitanClean™ Technology
If you are looking for a air purifier that does it all, look no further. The P600 is the most complete chemical and VOC filtration available today. Using the latest discoveries in nano-technology, Airpura delivers a new and speedy airborne chemical abatement process that will free your air from VOCs, airborne chemicals and odors, as well as airborne particles and microorganisms.
The P600 provides the greatest protection against a variety of airborne diseases because it is equipped both with a real HEPA filter, a carbon filter, a UV germicidal light and the TitanClean™ technology. All these team up to give you the best air possible to breathe in.
Don't keep waiting to get the clean, fresh air you deserve. Grab your Airpura P600, the most complete air cleaning system available today.
Why the Airpura P600 Is the Best On the Market
This purifier has the most sophisticated and comprehensive chemical and VOC filtering technology available on the market today.
The TitanClean™ Photocatalytic Oxidizer's strong photocatalytic oxidizer considerably expands the range of harmful airborne compounds that may be safely and successfully neutralized.
A UV germicidal light sterilizes bacteria, preventing them from recirculating in the air.
The HEPA filter collects 99.97% of airborne particles as tiny as 0.3 microns.
Sleek machine design that will blend in with all decors
Easy care and maintenance
Non-ozone emitting
Filtration Protection for the P600
TitanClean Photocatalytic Oxidizer: Airpura's Titanium Dioxide Photo-Catalytic Oxidizer uses the latest discoveries in nano-technology to deliver a new airborne chemical abatement process. This increases the range of dangerous airborne chemicals that can be killed off safely and effectively. Lasts around 20 months depending on use.
UV Germicidal Lamp: The UV lamp can help sterilize bacteria, viruses and mold spores by destroying the DNA of the microorganisms as they are trapped on the filters. The 20 watt UV bulb kills antigens, pathogens, and mold spores. This is effective for up to 15,000 hours.
True HEPA Filter: The P600's HEPA filter traps up to 99.97% of the smallest of microscopic particles down to 0.3 microns in size such as bacteria and viruses. Replace after 3-5 years depending on use. (Upgrade to the P614 Super HEPA filter which captures microscopic particles at 99.99% down to 0.1 microns)
Carbon Filter: 18 lbs. of 2" deep carbon bed which adsorbs airborne chemicals, noxious gases, and odors. Replace after 2 years of use.
Pre-filter: Outer pre-filter traps the larger particles such as dust, hair, lint, and pet dander. The pre-filter can be vacuumed from the outside of the unit making it easy to and prolongs the life of the main filter. Should be changed every 12 months depending on use.
The P600 Air Purifier Features:
Created to be eco-friendly, these features are environmental friendly allowing you peace of mind and knowing you are helping leave less impact on this earth while living and breathing a better one on it. Features that the Airpura P600 provide are: a lightweight, motorized impeller which delivers greater airflow at power consumption exactly the same, PCB-free (polychlorinated biphenyls) capacitors which are know to be toxic to humans, animals and the environment, zero off-gassing (free of any plastic, rubber, silicone, adhesives or any bonding agents, all-metal housing (93% recyclable) and pre-filters that can be vacuumed to ensure longevity of machine and improve the unit's energy efficiency.
Airpura's unique pressure seal on the filter chamber ensures that all of the dirty air passes through the filters. Other systems allow leakage and do not achieve the 99.97% HEPA filtration rating.
Felt gaskets seal the filter chamber. Maximize filtration with no rubber off-gassing found with other filters.
All metal housing ensures no plastic vapors are emitted.
Backward curved motorized impeller eliminates the vibrations and noise associated with older motor and shaft set ups.
The variable speed motor lets you choose your ideal level of filtration and easily adjust if you would like.
With the motor out of the air flow, you don't have to worry about clean air getting blown over the motor and picking up fresh impurities. Airpura has positioned the motor so this cannot happen like other air purifiers.
Unimpeded airflow is simple and direct internal airflow that avoids the air turbulence, inefficiency and noise associated with more convoluted systems.
Having separate electrical parts chamber prevents any off gassing from capacitors, condensers or switches.
The perforated steel exterior offers both a softer appearance and 360° air intake and distribution.
With separately changeable filters, you don't have to worry about replacing all at once. The HEPA and carbon filters let you change them when appropriate and save operating costs.
Downloads