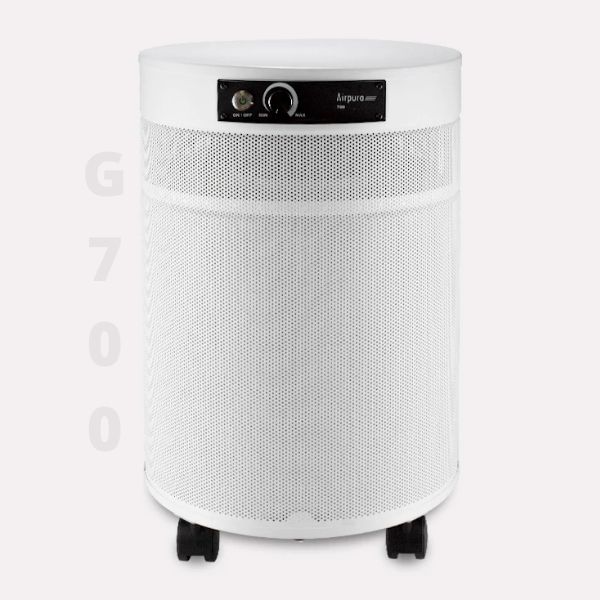 Airpura G700 Air Purifier
Save

Liquid error (snippets/product-badge line 32): Computation results in '-Infinity'

%
Purifies up to 2,000 sq. ft. with 360° air distribution.
Removes:

Household chemicals
Pollen
Mold spores
Dust
Allergens
Odors
Ideal for:
People who suffer from MCS (Multiple Chemical Sensitivities) 
Families who want clean and healthy air at home
Individuals prone to allergies and breathing problems
Workplace/Industrial use
Fitness Centers
Nursing Homes
Warranty: The Airpura Limited Warranty — 5 years on parts and 10 years on labor.
Airpura G700 — The Odor-Free Air Purifier for MCS
Do you suffer from headaches? Rashes? Muscle and joint aches or fatigue?
You might be suffering from MCS (multiple chemical sensitivity) and Airpura has designed the perfect air purifier for people with this condition with their G700 Air Purifier.
The unit can help get rid of those pesky chemicals that linger indoors, including VOCs like formaldehyde gas which is found in furniture polish among other things.
With 18 lbs. of premium German-sourced carbon, the air purifier has NO odor and is ideal for more sensitive individuals while offering optimal filtration.
Worry no more! Get your hands on the G700 and feel safe again.
New and Improved Airpura 700 Series — G700 Air Purifier
New powerful 635 CFM Fan/Motor
With the largest motor in a portable air purifier at 635 CFM, the Airpura G700 will give you more clean air and eliminate pollutants in your home! CFM stands for cubic feet per minute, and this is how many cubic feet per minute this air purifier can clean. This will give you more complete air exchanges every hour.
Increased Airflow with lower noise levels
Get better performance out of your G700 Air Purifier with the improved airflow in the 700 series air purifiers. They also have some of the quietest noise levels for an air purifier — 30.2 db on low (a whisper) and 63 db on high (a normal conversation) at 6 ft. Turn it on and let it clean your air without the loud noises.
Get relief from the chemicals around you with the G700
The powerful HEPA filter captures 99.97% of airborne particles, as small as 0.3 microns.
18 lbs. of premium German sourced carbon which contains no odor and recommended for individuals who are more sensitive to chemicals.
360° air distribution allows for purification for up to 2000 sq. ft with 2 air exchanges an hour (based on 8-foot ceilings).
635CFM (cubic ft. per minute) Integrated fan/motor which is most CFM available in a portable unit making the Airpura G700 an upgrade over other choices.
Variable speed controls gives you option to choose what your air flow and filtration will be.
Carefully calibrated dwell time over carbon bed and ample bed depth to maximize adsorption.
Comes with a streamlined inlet which provides powerful suction of pollutants.
Choose from colors: white, black and cream to match your decor inside your home.
Do you suffer from MCS? The G700 is here to help!
MCS can cause people discomfort and pain and most might not know it's the air they are breathing in at home or the workplace. Airpura's G700 Air Purifier is ideal for those who suffer from MCS, which can be hard to diagnose. Symptoms Of Multiple Chemical Sensitivity can include:
headaches
sore throat/sinus problems
problems with digestion
constant fatigue
coughing, wheezing, and eyes that itch or burn
itchy skin or rashes
nausea
muscle and joint pains.
If you have any of these symptoms, the G700 is the perfect fit for your air quality needs!
Airpura G700 Tech Specs
Coverage Area — Up to 2,000 sq. ft. (based on 8 ft. ceilings)
Airflow Speed/ Fan Speed

—

Up to 635 CFM. The most you will find in a portable air purifier.
Air Exchange per Hour

— 360° air distribution allows for

2 air exchanges per hour.
Dimensions

—

23" H x 15" W
Housing — Powder coated steel that prevents any off-gassing.
Weight

—

42 lbs.
Noise Level

—

30.2 dB on low and 63.0 dB on high
Filtration System — Pre-filter

is able to be vacuumed

and should be replaced every 12 months. Carbon Filter

has 18

lbs. of German carbon that is odorless and should be replaced every 2 years. The HEPA filter
traps 99.97% of particles as small as 0.3 micron

and should be replaced every 3-5 years.

Fan Speed

— Variable speeds

Casters

— 4 caster wheels make it easy to move around.

Voltage

—

115 or 220 volts
Ozone Emissions

—

None
Certifications

—

ETL, UL, ANSI
Downloads