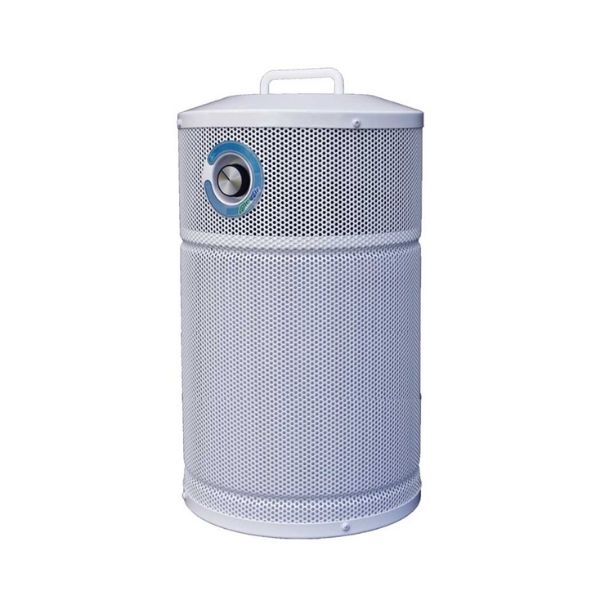 AllerAir AirMed 1 Supreme Air Purifier
Purifies up to 375 sq. ft. based on 8 ft. ceilings
Ideal for:
Someone who requires serious air cleaning in a compact format
Travel, RV, cottage, or cabin
Portability moving room to room 
Smaller rooms and spaces in the home or office
EXEC or VOCarb Carbon? Choose EXEC for standard air cleaning and VOCarb for higher pollution levels, VOCs, chemicals (formaldehyde, etc.), fumes, and odors.

Warranty: One year on parts and labor not including expendable parts such as pre-filters and filters.
Ships in 3-5 business days
Portable Air Purifier with Activated Carbon and HEPA Filters
Looking for a compact but powerful air purifier to give you clean air in smaller spaces in your home or work? Do you travel in an RV or have a cabin? The AirMed 1 Supreme is a portable air purifier that will give you the clean, fresh air you want to be breathing in.
Weighing in at 17 lbs., you can easily pack this in the vehicle to take along on a trip or move around in your home or office. The Supreme has a 7 lb. activated carbon filter with granular carbon and a medical-grade HEPA filter to get rid of unwanted chemicals, odors, dust, and allergens.
Keeping our environment safe and clean is just as important as the clean, fresh air we want to breathe in. The AirMed 1 Supreme has a very low energy consumption and eco-friendly features like no styrofoam making this air purifier perfect for you and our Earth.
You don't want to wait any longer. Grab the AirMed 1 Supreme today and start to breathe in the air you deserve!
AllerAir's Multi-Stage Filtration System
Pre-filter — Removes all of the larger particles like hair and larger particles. It also helps prolong the life of your HEPA and carbon filters and should be replaced every two to three months.
Medical-Grade HEPA Filter — It captures the fine dust, allergens, pollen, smoke and other particles lingering in your air. It can remove at least 99.97% of airborne particles measuring 0.3 microns or larger. Considered the safest and most efficient method for eliminating particles and it should be replaced every 2 years.
Activated Carbon Filter — The heart of an AllerAir air purifier is the activated carbon bed. The carbon filtration stage neutralizes, adsorbs and removes airborne chemicals, gases and odors from your air. AllerAir uses many pounds of activated carbon to effectively adsorb dangerous airborne substances. The carbon filter should be replaced every 2-5 years depending on usage.
UV Light Upgrade Option — You have the option to customize the AirMed 1 Supreme air purifier by adding a UV (ultra violet) germicidal lamp. UV light works by breaking down microorganisms and disrupting their DNA, making them unable to reproduce and in effect, "kills" or neutralizes them. This is excellent for controlling airborne mold mycotoxins, bacteria and viruses.
AirMed 1 Supreme Eco-Friendly Features
All-metal housing: The all-metal housing allows for it to be recycled and will not just end up in a landfill. Having the housing that is all-metal also allows for no off-gassing since it is not plastic.
Ozone-free filtration technology: Most air purifiers can produce a traceable amount of ozone. The Supreme gives you ozone-free filtration technology with it's carbon and HEPA filters.
Energy efficient: The AirMed 1 Supreme uses very little energy,

0.3 amps,

but will get your room clear of any pollutants around your home or office.
Refillable carbon canisters: The carbon filter canisters can be refilled so you can order new carbon when it needs to be changed after two or three years of use.
Styrofoam free: No styrofoam means no toxins can be released into the air from it and that helps our Earth.
North American sourced parts, materials and assembly: Know that your AirMed 1 Supreme is made with parts and materials from North America and also assembled here.
AllerAir AirMed 1 Supreme Technical Specs
Filtration System: Activated carbon filter at 1" depth goes perfectly together with the medical-grade HEPA and pre-filter. The trio will take care of your bad air and give you fresh, clean air to breathe.
Carbon Canister: 7 lbs. of activated carbon to clean the VOCs and other pollutants lingering around.
HEPA: Medical-grade, removes 99.97% of all airborne particles 0.3 microns in size
CFM (cubic feet per minute): 100 CFM. Rule of thumb is that you need at least 1 CFM per square foot of room area.
Speed: Variable — You will have the ability to adjust the speed from low for sleeping at night or turn to max for quick, high filtration.
UV Lamp: Upgrade (+$200) to the UV lamp to kill any viruses or bacteria that could be present in the air.
Available Colors: White
Voltage: 115/60Hz only
Amps (115V/230V): At 0.3 amps, you will not be using much electricity at all to have this running on a constant basis.
Cord Length: 6 feet of cord length gives you the ability to move the air purifier around different rooms.
Noise Level: 40-60 dB — That is close to average house noise, normal conversation or background music so it will blend in within your home.
Maneuverability: Lightweight and portable with handle so it can be easily moved around.
Filter Access: Bottom screws gives you easy access to change the filters and pre-filter.
Motor Details: Motorized Impeller
Dimensions: 19" (height) x 11" (diameter)
Shipping Weight: Approx. 20 lbs.
Operating Weight: 17 lbs.
CSA/UL: Yes
Downloads