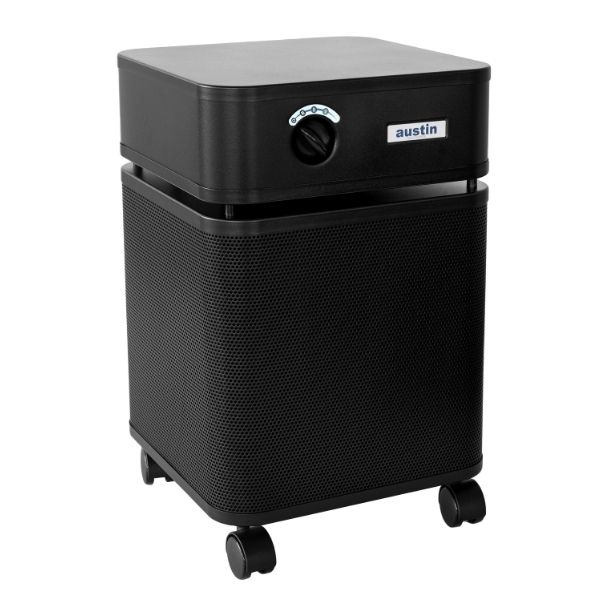 Austin Air HealthMate Air Purifier
Save

Liquid error (snippets/product-badge line 32): Computation results in '-Infinity'

%
Ideal for:
Those looking for protection against contaminants such as viruses and bacteria.
Individuals with concerns about their indoor air quality.
Those with slight sensitivities to airborne particles, chemicals, and gases.
Anyone looking for protection from everyday indoor air pollutants.
Ideal for areas between 1,000 and 1,500 square feet
Why the HealthMate is best for you:
Efficiently removes a wide range of airborne pollutants and allergens, including dust, pollen, chemicals, and gases.
Filters bacteria
Warranty:
5-Year Mechanical Warranty and 5-Year Pro-rated Filter Warranty (see below for more info on the warranties.)
Need Protection from Everyday Indoor Pollutants? The HealthMate Air Purifier is Here for You!
Clean Air. All-day. Everyday. Don't you want that?
The HealthMate is a workhorse unit designed to address your everyday air quality concerns. This is where it all started for Austin Air and remains the most popular. With minimal maintenance, you can turn it on and let the air around you get cleaned.
With four levels of filtration, you will give you maximum protection with the Medical Grade HEPA and Activated Carbon/Zeolite blend filters. These will remove viruses, bacteria, dust, dander, allergens, chemicals, gases, and odors that linger inside your home or office.
The best part about the filtration system is that you won't have to replace it for 5 years. Just vacuum the outside of the air purifier once a month and let it keep giving you fresh air. Think of all the money you will save over time...no constant replacement of different filters every few months to a year or two. They back this with the 5-year warranty on the filters.
Austin Air has been giving people better air for 30 years! It will improve the air quality in your home and provide many health benefits to you and your family or co-workers at the office.
Don't keep waiting. All you have to do is click the 'Add to Cart' button. You will be on your way to getting the clean air you deserve!
The 4 Stages of Filtration in the HealthMate Air Purifier HM400
Austin Air's HealthMate Air Purifier has 4 stages of filtration to give you fresh air. Each stage helps rid your air of the pollutants and contaminants that exist in your home or office. The four stages are:
Stage 1 — The large particle pre-filter helps remove particles easily seen by the naked eye such as dust, hair, and pet dander. It is the first line of defense and plays an important role in the process of giving you clean air. It is made of bonded polyester and comes in either black or white.
Stage 2 — With the medium particle pre-filter, the removal of small to medium size particles (e.g. molds, spores, and pollen) takes place and gives an extra layer of protection other air purifiers don't. Also made of bonded polyester, the large and medium pre-filters then let the big boys do the rest of the work.
Stage 3 — Over 780 cubic inches of Activated Carbon and Zeolite makes sure your home or office will be free from chemicals and VOCs. This stage will remove chemicals, gases, and odors. Both have properties that allow them to adsorb chemicals and gaseous materials. Try and find another activated carbon filter with that much protection!
Stage 4 — The industry-leading 60 sq. ft. of True Medical Grade HEPA removes 99.97% of all particles larger than 0.3 microns and 95% of all particles larger than 0.1 microns. This is the final stage before clean air is pushed out for you to breathe in. Austin Air only uses HEPA filters that are recommended by the WHO (World Health Organization) and CDC (Centers for Disease Control and Prevention)
The filter is designed to last up to 5 years under normal residential use. The filter change is made easy with step-by-step instructions in the Owner's Manual below. Click here to see the Austin Air HealthMate Replacement Filter.
Study Shows the HealthMate Air Purifier Can Help Kid's with Asthma
The Austin Air HealthMate was selected for use in a clinical trial at the Cincinnati Children's Hospital Medical Centre. They monitored a group of children with asthma who were regularly exposed to second-hand smoke. They wanted to determine if the use of Austin Air air purifiers could help reduce the number of times the children went to the hospital. Running one of the units in the children's bedrooms while they slept, reduced their hospital visits by nearly 20% results showed. Read more about this study done here
New Study Shows the HealthMate Air Purifier Can Help People with COPD
Austin Air HealthMate air purifiers were used in a clinical study at Johns Hopkins University for people who suffer from COPD. COPD, an inflammatory respiratory disease, has no cure and symptoms can worsen over time. These symptoms can include difficulty breathing, a persistent cough, and wheezing.
The trial included 116 ex-smokers who had moderate to severe COPD and they were followed for six months. One group was provided with two Austin HealthMate Air Purifiers while the other group was given units without real filters in them. After 6 months, evidence showed improvements with the group that the HealthMate air purifiers. Johns Hopkins stated, 'This is the first environmental intervention study conducted among former smokers with COPD showing potential health benefits of portable HEPA air cleaners, particularly among those with greater adherence and spending a greater time indoors.' Read more about this study done here
Enjoy Great Health Benefits with the HealthMate Air Purifier
The HealthMate can help reduce the viral load to minimize the risk of infection or severity of disease. By doing this, you can feel safe inside your home or office. The HealthMate can eliminate any bacteria or viruses that linger around your air.
With the 4 levels of filtration, you will not be breathing in any allergens that can cause attacks at night thus lessening nighttime allergies and asthma attacks. Get that better sleep knowing that you won't have so many attacks.
Everyone wants to have the strongest immune system to fight off any illnesses that could happen. The HealthMate can help strengthen the immune system by giving you the clean air you need and getting rid of any pollutants and allergens in the air. A stronger immune system means less worry about getting sick. Recovery would be easier too!
By giving you clean air, the HealthMate can ease your coughing, wheezing, and sneezing.
Austin Air's air purifiers can help reduce dry mouth and runny nose by capturing any irritants in the air that surround you. Less waking up during the night looking for the water or kleenexes. Doesn't that sound like a win for you?
Get a more sounder sleep when you have the HealthMate air purifier running. A night of better sleep makes you more productive and gives you more energy to take on each day!
Technical Specs on the HealthMate Air Purifier HM400
Made in the USA: Austin Air prides itself on making all units in the United States and stands by the units with a 5-year warranty.
Dimensions: 23" H x 14.5" W x 14.5" D
Weight: 47 lbs.
360° Perforated steel intake housing: The HealthMate draws air into all sides of the purifier and then passes it through the filter.
Baked on powder coat paint finish: No off-gassing can happen with the paint finish being baked on.
3 speed centrifugal Fan: Choose from 3 speeds to clean your air.
High-efficiency motor rated for continuous use at high RPM: Made to run 24/7, the HealthMate's motor will continue to run at high RPM's all day, every day.
Power Requirements: 1.2 amps, 120V — 147-watt power (high setting)
Rated Air Flow of Fan: 75 (lowest setting) to 400 (highest setting) CFM. CFM (cubic feet per minute) measures the volume of air in cubic feet for each minute it moves.
Noise Level: 50 dB - 62 dB — This is equivalent to a whisper to a normal conversation. The unit will not be overbearing for you while running all day.
Warranty: 5-Year Mechanical Warranty — Your Austin Air cleaner is warranted to be free from defects in material and workmanship for a period of 5-years from the date of purchase; provided your Austin air purifier was operated under normal residential use and that you have completed and returned your warranty registration to Austin Air Systems. 5-Year Pro-rated Filter Warranty — Austin Air offers a 5-year pro-rated filter warranty, by far the most comprehensive in the industry. No more costly filter replacements every few months or years. Austin Air filters are designed to last for an unprecedented 5-years, under normal residential use.
CSA/NRTL Approved: Independently tested and certified to meet recognized standards for safety or performance.
Downloads