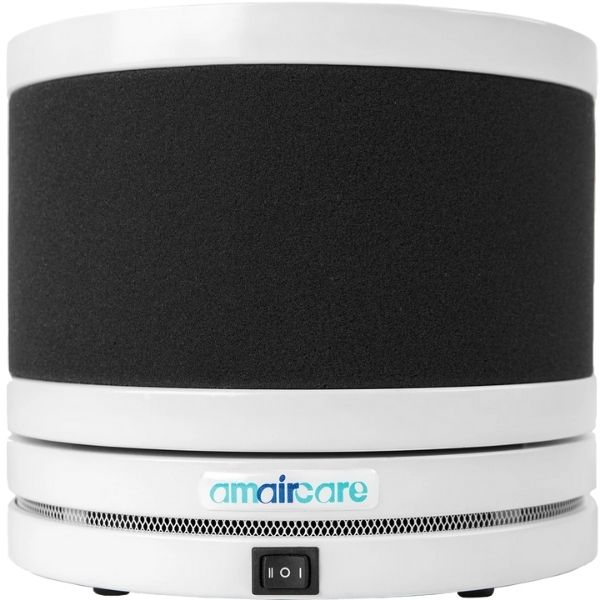 Amaircare Roomaid Portable HEPA Air Purifier
Area Coverage Room Size: Designed for areas up to 300 square feet
Ideal for: Bedrooms, Small offices, and other areas where space may be limited
Warranty: The motor/fan part is warranted for five (5) years from the date of purchase and all other component parts (except filters) are warranted for one (1) year from the date of purchase.
*Ships in 1-3 weeks* — Order now to reserve your spot in line!
Get Clean Air Anywhere with the Roomaid Portable HEPA Air Filtration System
Looking for clean air all the time? Even in the car?
The Roomaid is a compact and lightweight portable home air purifier to help control the unwanted odors and allergens in the air inside your home, car or bring it on your next trip.
It combines three stages of filtration: foam pre-filter (removes large airborne contaminants), HEPA filter (with 99.97% efficiency at 0.3 microns) and carbon inner filter (removes gaseous VOCs and other odors).
It is safe to use around children and pets and requires no assembly or maintenance. It can be used as a permanent installation (recommended) or simply plugged into any 12V. With fan speeds of high and low, you can easily adjust the airflow to your needs. Simple maintenance and easy filter replacement makes this unit hassle-free to get clean air.
Bring clean air with you wherever you go! Grab your Roomaid now!
Roomaid HEPA Air Purifier Features
COMPACT & SUPER-LIGHTWEIGHT: Weighing in at just 4.5 lbs., the Roomaid is easy to move around your home, office, or bring with you in the car.
EASY SNAP-ON FILTER HOUSING: The main filter cartridge is easy to pop off and provides access to change the three-stage filters with ease.
3-STAGE FILTRATION FOR MAXIMUM PROTECTION: First stage pre-filter captures large particles that float around you. The harmful and irritating particles get eaten up by the second stage HEPA filter and the chemical/gas pollution goes away with the third stage VOC filter.
DC MOTOR: Cleans the air at a low running cost and minimal drain on electrical resources to save you money and give you clean air.
STEEL CONSTRUCTION & BAKED THERMOSET POWDER FINISH: The durable, long-lasting housing is constructed of steel with a baked powder finish so it doesn't off-gas chemicals.
OPTIONAL VOC FILTER UPGRADE: Upgrade the VOC canister and the capacity for capturing chemical pollution will increase.
OPTIONAL CAR LIGHTER ADAPTOR CORD: Get the adapter for your car and take your Roomaid air purifier with you in the car for clean air everywhere!
OPTIONAL SEATBELT CLIP: Make sure your Roomaid is safe in the car. The seatbelt clip attaches to the bottom of the Roomaid air purifier and provides secure placement on the seat of the vehicle.
Roomaid Portable Air Purifier Tech Specs
Height: 7.5 in.
Width: 8.5 in.
Depth: 8.5 in.
Weight: 4.5 lbs. — Easy to bring with you on the road without any hassles!
Amount of Air Moved (Max CFM): 40 CFM (cubic feet per minute)
Number of Fan Speeds: 2 — Low and High
Manufacturer-Suggested Room Size: up to 300 sq. ft. with 1 ACH
Filtration System: Pre-Filter, 1/8-in. Foam and HEPA Filter
HEPA Filter Type: Pleated HEPA Cartridge
Ozone Emission: None with the baked thermoset powder finish and steel housing.
Number of Filters to Change: 3 — Pre-filter should be changed every every 4-12 months. The HEPA filter should be changed every 2-5 years and VOC filter needs to be changed every 6-12 months.
Minimum/Maximum Noise Levels: 40-47 dB (decibels) — This would be considered 'Library Noise' so it is pretty quiet when running on either speed.
Maximum Wattage: 5 W
Voltage: 110-120 V
Downloads