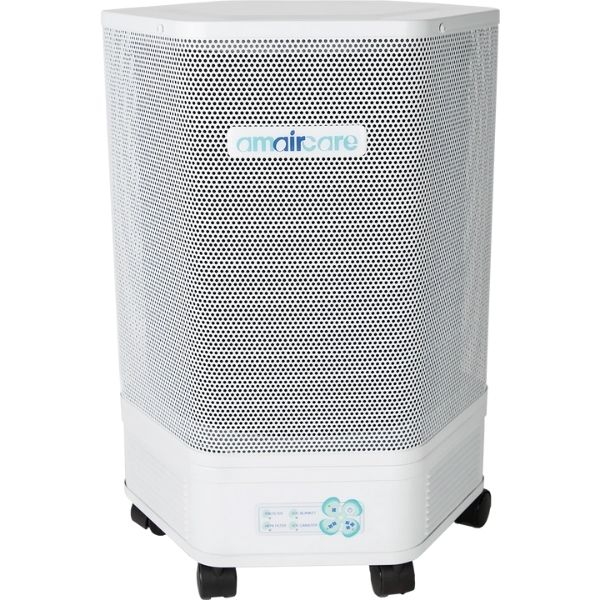 Amaircare 3000 Portable HEPA Air Purifier
Room Coverage: Maximum of 1690 sq. ft (based on 8' ceilings) for 1 ACH (Air Change per Hour).
Ideal for: Removing allergens, pet dander, odors, and more.
Warranty: The motor/fan part is warranted for five (5) years from the date of purchase and all other component parts (except filters) are warranted for one (1) year from the date of purchase.
*Ships in 1-3 weeks* — Order now to reserve your spot in line!
The Portable HEPA Air Filtration System that Works Wonders for Your Air
Looking for a lightweight air purifier that can be easily moved around but still deliver you the best air quality inside your home or office?
The 3000 air purifier is one of the highest-rated portable HEPA air purifiers in the industry.
With three-stage filtration (more on that if you keep scrolling) and variable speed control, it's perfect for any room in your home, condo, or office! Its powerful, yet quiet motor easily clears dust, pollen, pet dander, mold spores, and other airborne contaminants and gives you clean air to breathe in. No more worrying about what you are breathing in with this air purifier.
Another great feature is the filter monitor lights that will let you know when it is time to change any of the filtration stages. No need to keep track of when you changed them last. Amaircare has you covered to make filter changes easy and quick.
Don't wait around for clean air to come your way. Get your Amaircare 3000 air purifier where the clean air is waiting for you!
Amaircare 3000 Portable HEPA Air Purifier Features
MAXIMUM FILTERING CAPACITY: With the highest CFM of 225 (cubic feet per minute) of all Amaircare portable products, the 3000 filters air in larger areas with relative ease. This gives you more clean air while getting rid of the pollutants that linger around. The 360° air intake allows for air to be brought in from all sides for maximum cleaning of the air.
3 SPEED FAN: Choose from 3 different speeds for the fan: low, medium, or high. With the ability to choose your speed, you have full control based on the size and needs for your home or office.
HIGH-EFFICIENCY AC BACKWARD CURVED MOTOR: The motor's high performance airflow has a low running cost with minimal drain on electricity resources. Keep your air clean with years of continuous performance for less.
3-STAGE FILTER MONITOR: The monitor is able to keep track of the filter life so you don't have to! Individual monitors for each active stage of filtration and the LED lights remind you when it's time to change filters making it easy to do. The top load design makes changing filters fast and easy.
LED DIMMING & AUTO-OFF: The LED lights dim for subtle functionality and filter monitor LEDs darken to prevent distracting glare.
DURABLE STEEL CONSTRUCTION with THERMOSET POWDER FINISH: The durable, long lasting housing doesn't off-gas any chemicals and will provide you with clean air for many years to come.
The 3000 Filtration System in 3 Stages
Stage 1: The carbon pre-filter removes the larger particles and VOCs in the first line of defense for you. The first stage is very important for allowing the HEPA and VOC filters to capture the smaller and invisible pollutants that you don't see. The filter life for the carbon pre-filter is around 4 months.
Stage 2: With the True HEPA filter, you will get things like dust, pollen, bacteria, smoke and more removed from your home or office. The True HEPA filter has a 99.97% efficiency @ 0.3 microns so it can capture pretty much anything that comes it's way. The filter life for the HEPA filter is 2-5 years depending on usage.
Stage 3: The final stage is the V.O.C. filter which removes gas molecules, including VOCs (potentially hazardous) that become airborne when you are using cleaners, paints, and some carpets and furniture. The final stage of filtration gets rid of those pesky odors you smell inside your home or office. The V.O.C. filter's life expectancy is around 6 months.
Amaircare 3000 Air Purifier Tech Specs
DIMENSIONS: 16" Hexagon shape x 23" Height
WEIGHT: 22 lbs. — At 22 lbs., the 3000 can easily be moved around your home or office.
AIR FLOW (C.F.M.): 225 (Max)
POWER USAGE: 75 Watts (Max)
HEPA MATERIAL: 100 sq.ft.
MATERIALS: 24 gauge cold rolled steel
FINISH: Baked Thermoset Powder Finish gives zero off-gassing.
COLORS: Pure White or Slate — Two colors to fit almost any decor in your home or office.
SERVICE AREA: Maximum of 1690 sq. ft (based on 8' ceilings) for 1 Air Change per Hour
VOLTAGE: 110-120 V
CASTERS: Yes — 6 total makes for easy moving around your home or office.
SLEEP MODE: Yes — Allows you to make the air purifier not so loud when you want to sleep or have company over.
Downloads